RIM Technology
The mixing chamber and the two opposed jets, the core of the RIM process, constitute a Confined Impinging Jets (CIJs) mixer and reactor and mixing studies on this subject enabled the introduction of two new RIM technology developments: control of mixing dynamics and the design of CIJs.
RIMcop, RIM with control of oscillation and pulsation, is a technology based on the strong flow oscillations associated to mixing that can be assessed from dynamic pressure measurements. Furthermore, these oscillations can be modulated to control mixing in RIM using active mixing strategies, namely the pulsation of the liquid components flow streams.
The design of the injectors for CIJs any material formulation is based on stoichiometry/mixing ratios and on the rheology of the liquid components. A theoretical model, called the mayonnaise equation, derived from an elastic analogous of two opposed jets enables the calcuation of the best mixing conditions in the CIJs.
These technologies have been successfully demonstrated in industrial applications, and are now moving on to the market through a spin-off company of the LSRE-LCM, MICE-molds.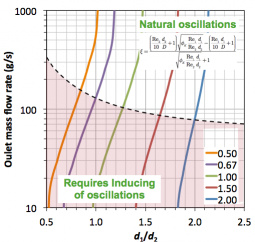 Design curves for RIM machines mixing chambers from the elastic analog model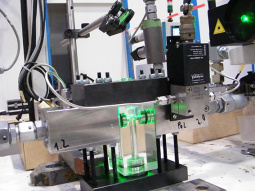 Transparent prototype assembled for the proof of concept of RIMcop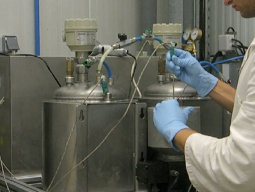 Pilot RIMcop machine - preparation the discharge mould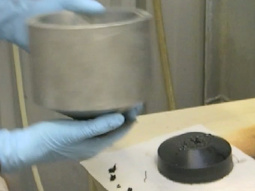 Polyurethane part produced in the pilot RIMcop machine
PATENTS
J.C.B. Lopes, R.J.N. Santos, M.M.G.Q. Dias, M.A.S.M. Yousuf, C.A.P. Fonte, Opposed jets mixing chamber for mixing fluids with different mass fluxes. PCT/IB2013/051380, February 2013. Portuguese Patent 106166, February 2012.
R.J.N. Santos, J.C.B. Lopes, M.M.G.Q. Dias, E. Erkoç, Device for pipe flow pulsation. PCT/IB2008/051365, April 2008. Portuguese Patent 103715, April 2006.
J.C.B. Lopes, R.J.N. Santos, A.F.T.M. Teixeira, M.R.P.F.N. Costa, Production Process of Plastic Parts by Reaction Injection Moulding and Related Head Device. PCT/IB2005/000886, April 2005. US Patent 7708918 B2, granted May 2010. EU Patent 1732747, December 2006, granted December 2006. Portuguese Patent 103101, April 2004.

SELECTED PUBLICATIONS
N.O. Gomes, C.P. Fonte, C.C. Sousa, A.J. Mateus, P.J. Bártolo, M.M. Dias, J.C.B. Lopes, R.J. Santos. Real time control of mixing in Reaction Injection Moulding. Chemical Engineering Research and Design, 105, 31-43, 2016
C.P. Fonte, R.J. Santos, M.M. Dias, J.C.B. Lopes. An Elastic Analog Model for Controlling the Impingement Point Position in Confined Impinging Jets. AIChE Journal, 62, 2200-2212, 2016
E. Erkoç, C.P. Fonte, M.M. Dias, J.C.B. Lopes, R.J. Santos. Numerical study of active mixing over a dynamic flow field in a T-jets mixer—Induction of resonance. Chemical Engineering Research and Design, 106, 74-91, 2016
M.I. Nunes, R.J. Santos, M.M. Dias, J.C.B. Lopes. Micromixing assessment of confined impinging jet mixers used in RIM. Chemical Engineering Science, 74, 276-286, 2012
R.J. Santos, A.M. Teixeira, J.C.B. Lopes. Study of Mixing and Chemical Reaction in RIM. Chemical Engineering Science, 60, 2381-2398, 2005
R.J. Santos, A.M. Teixeira, M.R.P.F.N. Costa, J.C.B. Lopes.. Operational and Design Study of RIM Machines. International Polymer Processing, 42, 387-394, 2002

Formulation of RIM Materials
Reactive polymerization can be used to produce any type of polyurethanes (elastomeric, rigid or soft foam), nylon, reactive epoxy or DHCP materials. These materials are obtained from mixing of two liquid components, and the properties of the obtained materials depend on many parameters, namely mixing, stoichiometry of raw materials, processing temperature, and additives in the formulation (catalyst content, admixtures, chain extenders and cross linkers). Since mixing is an important parameter for the material properties, the formulation of such materials for actual production, involves tests on prototype RIM machines, which have production rates of 10 to 100 kg/min. This production rate generates large amounts of waste and requires large amounts of testing materials to have a meaningful operation time, and thus making it impractical the study of many formulations.
A new procedure is being developed for the test of reactive polymerization formulations directly in a rotational rheometer, and the mixing conditions have been studied to ensure that the RIM machine mixing can be mimicked. In a rheometer small amounts of viscous liquid components can be quickly mixed and each formulation can be assessed using only a few grams of raw materials. The formulation of materials for RIM in the rheometer enables the determination of the process time scales, namely those for the gel point and for demoulding. This procedure was tested with a polyurethane and Nylon formulations.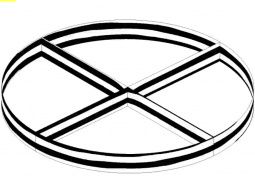 CFD simulation of mixing of two fluids in a plate/plate rotational rheometer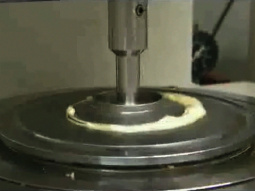 Test of a polyurethane foam in the rotational rheometer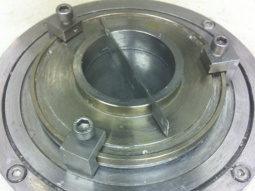 Holding cell developed to improve the setting of the contact initial conditions of liquid monomers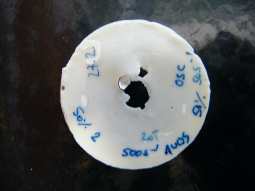 Polyurethane sample produced in the rheometer for formulation of RIM materials