Advanced Functional Materials
Functional Textiles
The design of smart and functional textiles has been a subject of intense research over the last decades, since there is a constant demand for innovative high-performance textiles. The textile industry represents the largest industrial sector in Portugal, and plays a crucial role in its economical development. The fabrication of novel functional textiles is a major challenge, providing opportunities for innovation and high-level competitiveness. Our aim is to contribute towards the development of advanced, innovative and sustainable textile solutions by the incorporation of carbon nanotubes, silica nanoparticles or cork. Novel functionalities like photo and/or thermal activity, thermal insulation, water repellency, and fire retardancy, are being developed.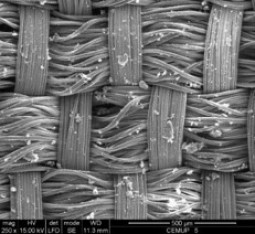 SEM images obtained for polyester samples after incorporation of multiwalled carbon nanotubes. 250x
1500x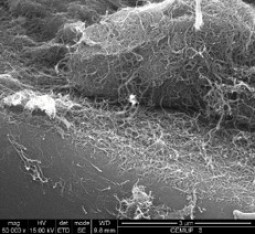 50000x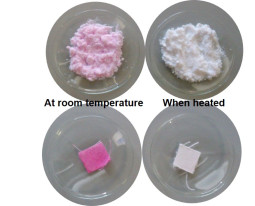 Dye-functionalized silica and the corresponding thermochromic textile
SELECTED PUBLICATIONS
T.V. Pinto, D.M. Fernandes, C. Pereira, A. Guedes, G. Blanco, J.M. Pintado, M.F.R. Pereira, C. Freire. Lanthano phosphomolybdate-decorated silica nanoparticles: Novel hybrid materials with photochromic properties. Dalton Transactions, 44, 4582-4593, 2015
L.S. Ribeiro, T. Pinto, A. Monteiro, O.S.G.P. Soares, C. Pereira, C. Freire, M.F.R. Pereira. Silica nanoparticles functionalized with a thermochromic dye for textile applications. Journal of Materials Science, 48, 5085-5092, 2013
A.G. Goncalves, B. Jarrais, C. Pereira, J. Morgado, C. Freire, M.F.R. Pereira. Functionalization of textiles with multi-walled carbon nanotubes by a novel dyeing-like process. Journal of Materials Science, 47, 5263-5275, 2012

Magnetic Carbon Nanostructures for Biomedical Applications
Cancer incidence and mortality is growing worldwide at an alarming pace, new strategies for cancer diagnosis and treatment being urgently needed. Magnetic nanoparticles are gaining interest in the field of nanomedicine, especially in theranostics, combining cancer diagnosis and treatment (e.g., magnetic resonance imaging (MRI) with cell and tissue targeting, hyperthermia and/or drug delivery). In particular, carbon-based magnetic nanoparticles offer high chemical and thermal stability, large surface area, biocompatibility, high adsorption capacity and can be easily functionalized. The main goal of this research topic is to develop highly hydrophilic theranostic nanosystems comprising a superparamagnetic core (to enable the magnetic guidance and hyperthermia application) covered by graphene-based nanostructures (to allow MRI targeting and stimuli-response for controlled drug release). The research topic is also focused on the in vitro assessment of the micro-flow behaviour of the synthetized magnetic carbon nanostructures when in contact with blood and cancer cells by implementing microfluidic microdevices specially developed for this effect.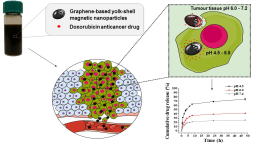 Graphene-based magnetic nanoparticles developed as pH-dependent drug delivery systems for cancer therapy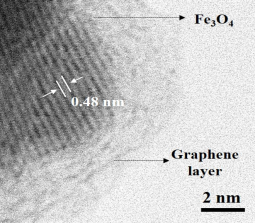 High resolution scanning transmission electron microscopy (HR-STEM) image of graphene-based magnetic nanoparticles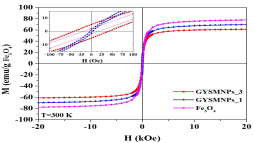 Magnetization curves of Fe3O4 and graphene-based yolk shell magnetic nanoparticles (GYSMNPs) samples. Hysteresis loops at 27 ºC up to ± 20 kOe; the inset is a zoom in the low field region
Microfluidic set-up for haemocompatibility studies of red blood cells (RBCs) in contact with magnetic nanoparticles (MNPs)
SELECTED PUBLICATIONS
R.O. Rodrigues, M. Bañobre-López, J. Gallo, P.B. Tavares, A.M.T. Silva, R. Lima, H.T. Gomes. Haemocompatibility of iron oxide nanoparticles synthesized for theranostic applications: a high-sensitivity microfluidic tool. Journal of Nanoparticle Research, 18, 194, 2016
N. Pereira, M. Mujika, S. Arana, T. Correia, A.M.T. Silva, H.T. Gomes, P.J. Rodrigues, R. Lima. The effect of a static magnetic field on the flow of iron oxide magnetic nanoparticles through glass capillaries. In Visualization and Simulation of Complex Flows in Biomedical Engineering, pp. 181-196, R. Lima, Y. Imai, T. Ishikawa, M.S.N. Oliveira (Eds), Springer Dordrecht Heidelberg, New York, 2014

Carbon-Based Bioconjugates
At a first glance biomolecules and carbon materials seem to belong to worlds apart. Yet, the specificities of both types of materials when conjugated in hybrid systems open a wide range of opportunities in the fields of medicine, nanotechnology, biotechnology and materials science. The combination of carbon nanotubes (CNTs) with biomolecules to form hybrid nanomaterials has been used for the design of functional nanocomposites, biosensing, biomedical imaging and drug delivery. CNTs provide high surface area, low mass transfer resistance, enhanced enzyme load, and a curve-shaped surface which allows an ideal disposition of these globular biomolecules. Moreover, the conjugation of enzymes with CNTs can increase both enzyme activity and stability, even when subjected to strongly denaturing environments. The efficiency and robustness of the carbon-based bioconjugates can be optimized by tuning the surface chemistry of the carbon support.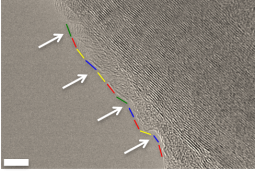 Laccase immobilized on the sidewalls of CNTs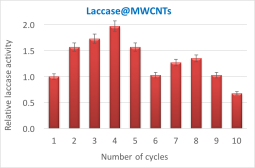 Operational stability of laccase immobilized over MWCNTs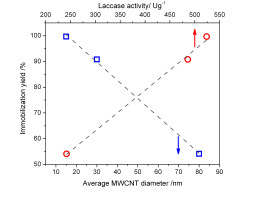 Relationship between the MWCNT average diameter or laccase activity and the immobilization yield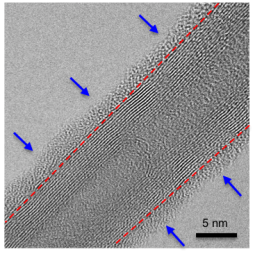 Peroxidase immobilized over MWCNTs
SELECTED PUBLICATIONS
J.B. Costa, M.J. Lima, M.J. Sampaio, M.C. Neves, J.L. Faria, S. Morales-Torres, A.P.M. Tavares, C.G. Silva. Enhanced biocatalytic sustainability of laccase by immobilization on functionalized carbon nanotubes/polysulfone membranes. Chemical Engineering Journal, 355, 974-985, 2019
A.P.M. Tavares, C.G. Silva, G. Drazic, A.M.T. Silva, J.M. Loureiro, J.L. Faria. Laccase immobilization over multi-walled carbon nanotubes: Kinetic, thermodynamic and stability studies. Journal of Colloid and Interface Science, 454, 52-60, 2015
R.M. Azevedo, J.B. Costa, P. Serp, J.M. Loureiro, J.L. Faria, C.G. Silva, A.P.M. Tavares. A strategy for improving peroxidase stability via immobilization on surface modified multi-walled carbon nanotubes. Journal of Chemical Technology and Biotechnology, 90, 1570-1578, 2015
C.G. Silva, A.P.M. Tavares, G. Drazic , A.M.T. Silva, J.M. Loureiro, J.L. Faria. Controlling the surface chemistry of multiwalled carbon nanotubes for the production of highly efficient and stable laccase-based biocatalysts. ChemPlusChem, 79, 1116-1122, 2014