Portuguese flora can be considered an efficient synthesizer of components suitable for the Flavour & Fragrance industry. Our research has been taking advantage of this potential by isolating natural fragrances from aromatic plants such as Origanum majorana L., Helychrysum italicum (Roth) G. Don subsp. picardi (Boiss. & Reut.), Cistus ladanifer L., Pelargonium sp., Eucaliptus globulus Labill., Thymus zygis L., Thymus fontqueri (Jalas) Molero & Rovira, Melissa officinalis L., and Lavandula dentata L.
Hydrodistillation and supercritical fluid extraction (SFE) using carbon dioxide are the techniques applied. SFE is excellent from the perfumery industry point of view: it produces extracts resembling the original scent and provides the opportunity to obtain a selective and enhanced recovery of target components by optimizing operation parameters.
We are also focused on the identification of components through gas chromatography coupled to mass spectrometry and direct analysis of the headspace of the plant material (with no disruption or alteration of its structure) and olfactory scent using the dynamic headspace technique.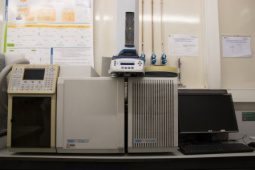 Gas chromatograph coupled to a mass spectrometer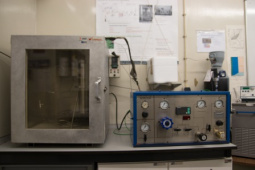 Supercritical fluid extraction unit
Dynamic headspace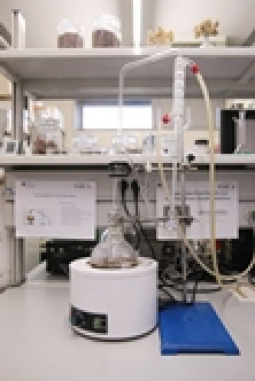 Clevenger apparatus
SELECTED PUBLICATIONS
P. Costa, C.V. Velasco, J.M. Loureiro, A.E. Rodrigues. Effect of Cosmetic Matrices on the Release and Odour Profiles of the Supercritical CO2 Extract of Origanum majorana L.. International Journal of Cosmetic Science, 38, 364-374, 2016
P. Costa, J.M. Loureiro, M.A. Teixeira, A.E. Rodrigues. Extraction of Aromatic Volatiles by Hydrodistillation and Supercritical Fluid Extraction with CO2 from Helichrysum italicum subsp. picardii growing in Portugal. Industrial Crops and Products, 77, 680-683, 2015
P.B. Gomes, V.G. Mata, A.E. Rodrigues. Production of Rose Geranium Oil using Supercritical Fluid Extraction. Journal of Supercritical Fluids, 41, 50-60, 2007